In this July 9 MIT Executive Education webinar, IDE Director, Sinan Aral, discussed how social media is becoming an even more central source of information and human connection during the COVID-19 pandemic, and the new concerns arising.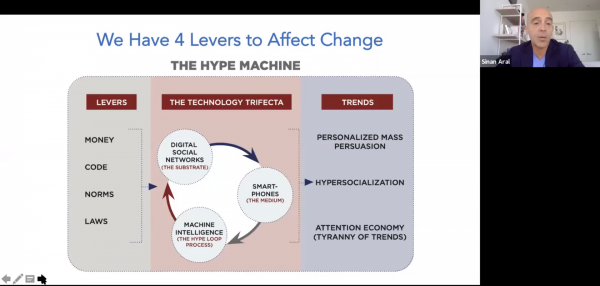 In his new book, "The Hype Machine," Aral explains how social media affects: • Our Brains (Neuroscience) • Our Elections (Political Science) • Our Economy (Economics) • Our Health (Epidemiology)
What will be the impact on the 2020 U.S. elections? How do we balance and protect the need for privacy, regulation, and open access? Aral offered a preview of the book and its findings in this timely and critically important webinar.
Watch the video here. Also watch the interview with Sinan and Techonomy, here.
Pre-order the book before its September 15 publication or on Amazon.