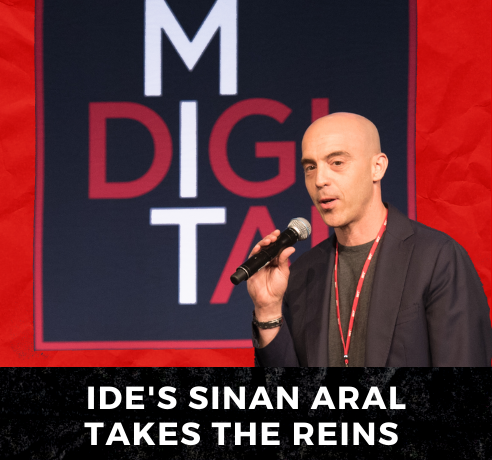 The MIT Initiative on the Digital Economy (IDE) will have a new Director beginning on July 1, 2020. As Erik Brynjolfsson, a founder of the IDE and a longtime and valued member of MIT, leaves this summer to join the Stanford  University faculty, Sinan Aral will step up to assume the role that his former mentor has held.
Aral, the MIT Sloan David Austin Professor of Management, will become the Director of the IDE on July 1, 2020. Aral was Brynjolfsson's PhD student, and was one of the first researchers in the world to develop an area of research on Social Networks, Social Media, and Digital Strategy. He holds joint appointments in the IT and Marketing groups at MIT Sloan, and has been leading one of the primary research groups within the IDE since its inception six years ago. 
MIT Principal Research Scientist, Andrew McAfee, will continue as co-director of the IDE and the staff and research teams are unchanged. The IDE will continue to produce exciting new work from renowned and next-generation superstar researchers.
Aral's ground-breaking study on the spread of fake news (The spread of true and false news online) was featured on the cover of Science in March 2018 and shared broadly across global media. His most recent research will be published in September 2020 in the forthcoming book, The Hype Machine, which describes the impact of social media on statecraft, politics, voting, business and public health – and shows us how society must adapt. 
Aral is looking forward to his new assignment saying he is "excited about the opportunity to bring new ideas and enthusiasm to the IDE. I "grew up" as a PhD student in the IDE when it was the Center for Digital Business. I've known the executive staff for nearly 20 years and I am excited about IDE's next chapter and expanding its intellectual focus and Sloan footprint. There are exciting times ahead!" 
Read the full press release here.