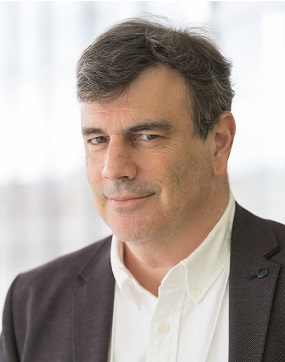 MIT IDE Visiting Scholar, Michael Schrage, often challenges assumptions about new technologies — such as AI, robots, and big data — and their business value. In a recent MIT Sloan Management Review blog, For a Return on Platform Investment, Focus on New Capabilities, Schrage posits that in their rush to hop on the platform bandwagon, many legacy companies fail to yield value from their investments. Many "risk defining their platform value so narrowly that they end up with constricted or conflicted implementations," he writes. Other companies emphasize technology tools over business outcomes.
MIT IDE content and editorial manager, Paula Klein, asked Schrage to clarify and expand on some of his insights in a recent interview. His key points are highlighted here.
Q: In the recent SMR article, you write that "too many world-class product and services companies frequently fail to get the business impact they crave," even when fully embracing platforms. In fact, you liken their efforts to the pains of Procrustes in Greek mythology. Why so harsh? Are you opposed to the rapidly emerging platform economy?
A: My intent was to be descriptive, not harsh. Platforms offer extraordinary and proven approaches to new value creation, so I'm concerned when I see so many organizations misunderstand and mistreat them. Let me offer two quick examples from business history: First, we saw how 'quality' and Six Sigma movements dramatically improved product reliability while removing waste and inefficiencies. But companies that simply grafted Six Sigma/quality methodologies onto existing processes got short-term improvements, but ultimately grew stagnant. Why? Because they treated 'quality' as a mechanism to improve what they were already doing rather than rethink how quality might let them better and more efficiently design product and service outcomes. This was one reason why Japanese automobile and semiconductor companies outperformed their American counterparts for many years.
The second example relates to platforms themselves. I've done a lot of work in the design, development, and deployment of network effects. Yet, I remain astonished — and disappointed — by how few legacy organizations explicitly design for network effects in their platform roadmaps. I continue to see too many companies adapting their product portfolios to platforms rather than thinking through fundamental principles. It's mimicry without understanding the enormous opportunities that exist.
Q: Apparently, it's not the technology — APIs, micro-service architectures, and other enabling digital tools — that are the obstacles. Are a lack of business strategy and vision about platforms undermining value; especially at product-oriented legacy companies?
A: To the contrary, there's too much vision and strategy and not enough willingness and self-discipline to address fundamental questions. What do we really want to learn about our customers and prospects? What's the difference between an ecosystem and a supply chain? Do we care more about creating new efficiencies for ourselves than new value for our customers? The unwillingness to answer those kinds of question undermines the platform opportunity.
Continue reading the full interview on Medium, here.